Restaurant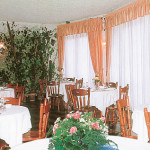 The typical cuisine of Basilicata linked to the international cuisine is a match point for gastronomy lovers.
The Hotel Restaurant
Breakfast served at a table with Continental Buffet from 7:30 to 9:30
Lunch Service from 13:00 to 14:30
Dinner Service from 20:00 to 21:30
Restaurant Service for children and kids
It is possible to anticipate preparation and catering for children 20 min before opening the restaurant, with the possibility to agree the children's menu with the chef or to prepare baby food and homogenized food, conveniently provided by the customer, in order to provide mothers and above all children with a greater security.
Some gastronomic specialties you can taste at Hotel Club San Diego in Maratea.
STARTER
Queen Tortolette – Tortolette alla piemontese – Piemontese-Style Tortolette – Quiche Lorraine
FIRST COURSE
Asparagus tip risotto – Scampi risotto – Caruso-style Spaghetti – Gourmet-style Maccheroni au gratin – Marateota-style pasticcio of lasagna – Roman-style gnocchi – Stuffed pancakes with shellfish
MAIN COURSE
Indian-style Pilaf – Salmon medallions au gratin – Lobster Thermidor – Mornay lobster shells – Shellfish vol au vent – Wellington-style beef tenderloin – Grilled Chateaubriand – Sorrentina-style thin slices of veal – Veal with tuna sauce – Princess medallions of beef – Florentine chicken


Wedding Hall "ORIZZONTE"